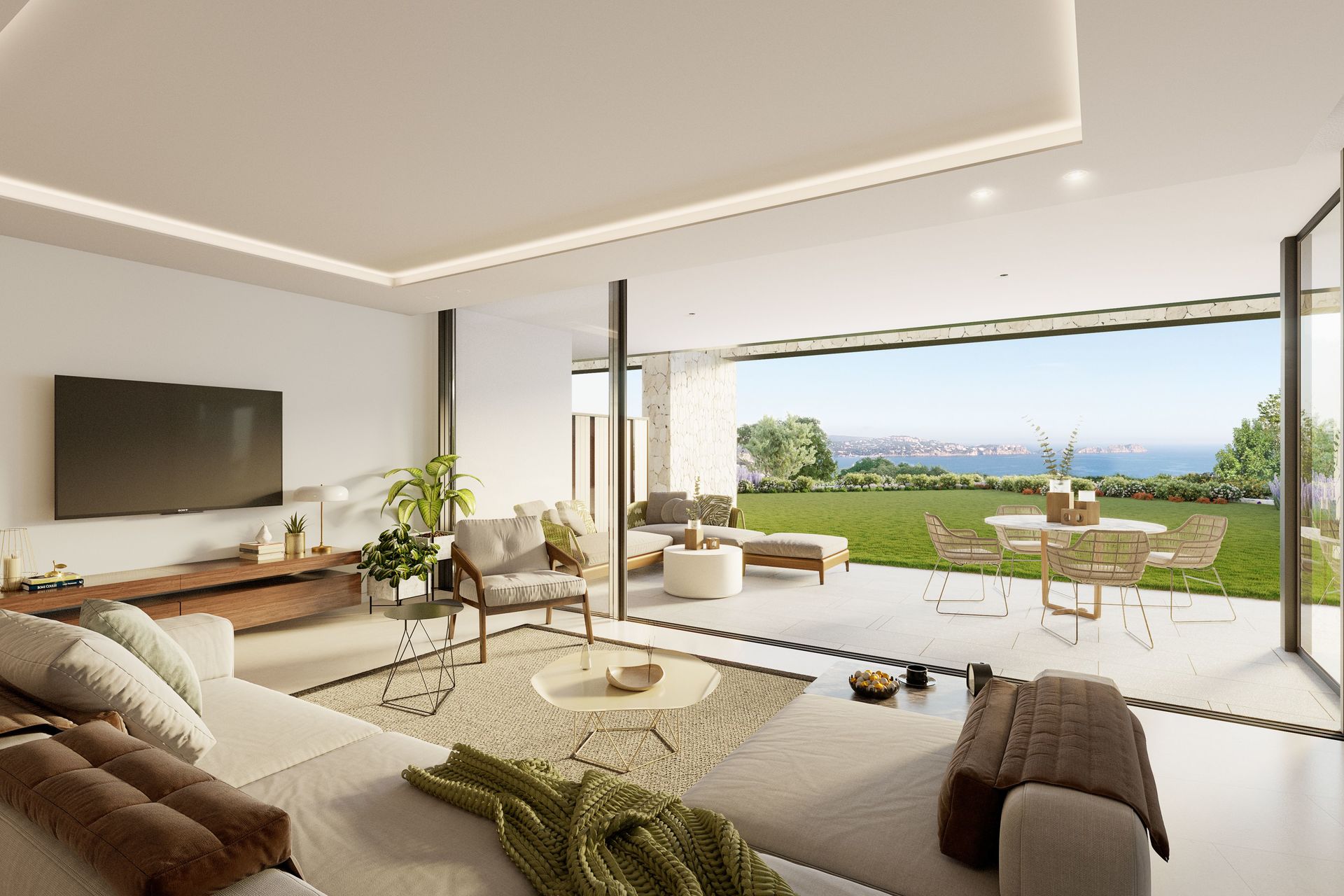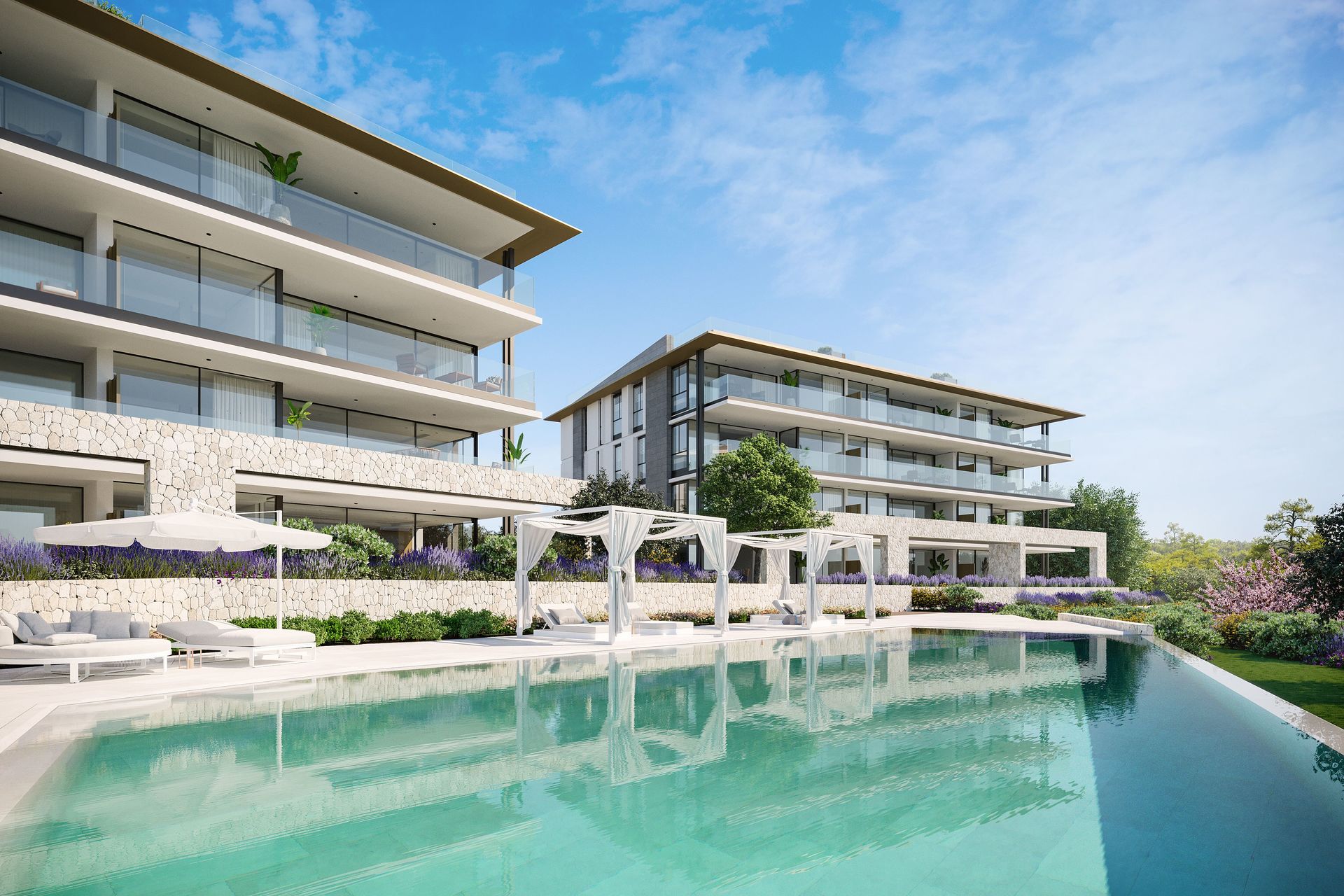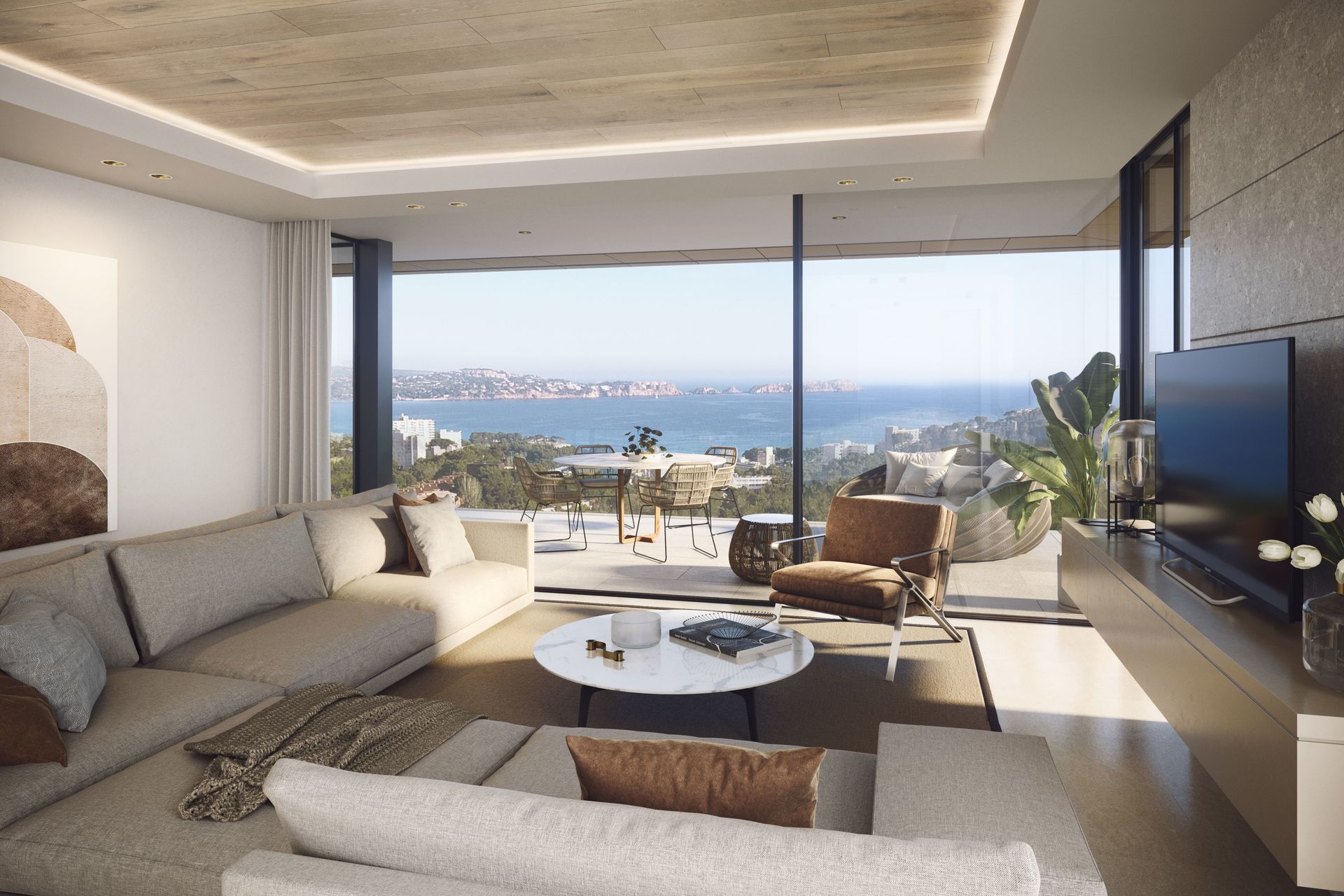 Luxury Apartments on Mallorca
Guardar
Guardar
Guardar
Guardar
In a wonderful location between Port d'Andratx and Santa Ponsa in Mallorca's fascinating south-west, an exclusive residential complex is being built with a total of 72 luxury units in an open and non-formal design.
The "Sa Puntassa Mar" complex includes 3 buildings each with 28 apartments, and "Sa Puntassa Island" has six buildings with a further 44 apartments.
The 36 apartments with 2-4 bedrooms have floor spaces ranging from 138m² – 226m². The 20 garden apartments with 2-4 bedrooms also have their own gardens ranging from 131m² – 584m². Our 16 top-designed 3-4 bedroom penthouses with attractive outdoor features such as terraces and water-features.
Almost all units in this excellent location have both sea and mountain views, and the south-facing units look onto the island of Malgrat.
All amenities such as restaurants, bars and beaches are in walking distance to add to life's enjoyment of life.
Delight in local beauty with international styling!
Generous landscaping, careful planting of local greenery, attractive interior designs, a unique level of comfort.
Sa Puntassa has been developed by teams of experts from around the world and at a consistently high level of quality.
Walking along Sa Puntassa's beautifully laid out pathways, with their glorious views, is a pure pleasure at any time of the year. The same applies for sport activities along the fitness trail or time spent in the securely laid-out children's playground.
If  walking is difficult for you, you can still enjoy the magic of the complex because the pathways are accessible to the disabled and easy to traverse.
Under each building in Sa Puntassa is a spacious underground parking facility
linked to the apartments by a lift. This enables easy access as well as safe and year-round parking under cool conditions – a vital feature in Mallorca.
Landscape
Visitors to Sa Puntassa, not to mention its residents, will become immediately aware of the value designers have placed on perfectly integrating the entire complex into the original beautiful landscape.
Elegantly styled, terraced areas offer both privacy and breathtaking views towards the mountains and sea.
The flowers and scent of local olive, almond, lemon and apricot trees create a lush Mediterranean-oasis atmosphere, and pathways lined with water features lead to an attractively designed water feature.
Walking along Sa Puntassa's beautifully laid out pathways, with their glorious views, is a pure pleasure at any time of the year. The same applies for sport activities along the fitness trail or time spent in the securely laid-out children's playground.
Mallorca's unique beauty condensed in a generously laid-out complex: Pure pleasure by day and by night!
Pool & Chillout
Guardar
The pool areas at Sa Puntassa give you all the comfort of a five star plus resort.
Sa Puntassa Mar offers a large pool area with chill-out areas and daybeds that invite you to lean back and relax as well as to enjoy a cool drink at the pool bar.
In Sa Puntassa Island the residents can enjoy an upper pool and lower pool with sunbeds, daybeds and a pool bar.
Things are different in the separate children's pools. Splashing and playing are strictly permitted within this family atmosphere!
Both adults and children can therefore enjoy their own personal Mediterranean summer experiences!
Terraces
Enjoying life at its best.
Your terrace gives you panoramic views of beautiful mountains, the bay of Sa Puntassa and the Malgrat island.
Enjoy the calm of fantastic sunsets across the Mediterranean sea.
Interior
Guardar
You can expect well planned and well coordinated interior designs whether you opt for the "Avantgarde" or "Exclusive" line.
Minimalistic windows that extend down to the floors and high ceilings of 2.65 m in all apartments provide the basis for you to personally furnish and fit out your new holiday apartment or penthouse, with the help of our planners and interior designers.
Our Design Studio in Port Adriano is available to give you plenty of ideas with its high-quality furniture and accessories from exclusive brands and top-class materials.
Your lifestyle will then begin to take shape and your dream apartment will begin to become true!
Material Design
In Sa Puntassa we use international brands for all selected materials and fittings.
Natural stone floors and bathroom countertops will give you a Mediterranean flair combined with modern elements.
Kitchens with marble countertops and state-of-the-art appliances from Miele or Gaggenau.
Our lighting experts have created beautiful atmospheres for day and night lighting using a combination of spots, indirect LED lighting, ceiling and outdoor lighting.
Each master bathroom has a shower and free standing bath to aid relaxation.
To enable you to enjoy music in your new home, we have pre-installed a Sonos sound system and all rooms have SAT TV connections.
Points of interest
Port Andratx
10 min – 11.3km
Puerto Portals
12 min – 13.3km
Port Adriano
10 min – 11.3km
Santa Ponsa
5 min – 9.6km
Golf  Poniente
10 min – 10.9km
Golf Santa Ponsa
8 min – 9.1km
Restaurants & bars
In walking distance
Serra de Tramuntana
10 min – 10km.

Mallorca. The paradise close by
Guardar
All this plus the island's exceptional infrastructure provide the basis for safe and enjoyable living – and Mallorca is quick and easy to reach via many direct air routes taking around 2-hours from all over Europe.
Mallorca offers year-round excellent living conditions: a mild climate with 300 days of sun per year; sandy beaches; bays and marinas; the lively capital city of Palma with innumerable cultural and shopping opportunities; an unspoilt hinterland with picturesque villages; Mediterranean cuisine; water sports and land sports including 24 golf courses.